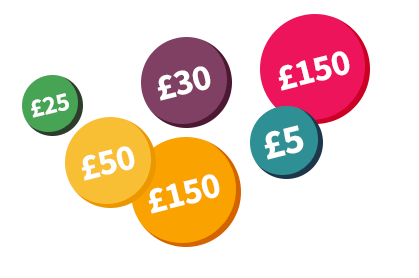 Lottery
For many charities a fundraising lottery is a vital revenue stream. Many supporters also embrace charity lotteries as they are incentivised to donate to their chosen cause and they also have a chance of winning.
Cybertill has developed the first lottery EPoS module that links with a charity's existing lottery and its provider and importantly automates the whole process of selling tickets in-store.

Why Charities currently don't sell Lottery tickets in-store?
Many charities operate lotteries but a large percentage of those that operate shops don't currently sell their lottery tickets in their stores, despite the captive audience. According to Chris Routley, Lottery Manager at Hospiscare and the Chair of the Hospice Lottery Association there are several barriers to overcome when considering to selling lottery tickets in-stores, these include: "The printing and distribution of tickets and the associated costs, the time it takes to sort the returned tickets and input them into the lottery system, and most importantly how they are offered at the till point in a way that encourages the add-on sale."

Our Solution
Cybertill does away with expensive pre-printed tickets and makes the process of selling tickets so much easier. Again according to Chris Routley of Hospiscare, "The Cybertill lottery module allows the till operator to process a lottery sale with ease, meaning they will be more inclined to offer them in the first place. It also simplifies the whole admin process and integrates with any lottery system, not only saving time and money, but also opening up other opportunities such as being able to offer a rollover prize and selling tickets up to the last minute."
With the Cybertill Lottery EPoS module, at the till point, shop staff simply enter the customer's name and post code, which auto populates their address, when buying tickets. Their lottery number(s) are then picked from the lottery provider's database and printed instantaneously by the receipt printer. This makes selling and administering sales in-store simple and straight forward. It also helps head office monitor sales across their shops in real time, so they can be proactive with their stores. When selling pre-printed tickets head office has no idea how sales are developing until the stubs are returned at the end of the week. What's more head office knows that customer details are more accurate, for example there are no illegibility issues on hand written tickets. And as the data is collected fundraising can target the new lottery players to see if they want to sign up to play via direct debit.

Charity Lottery Providers
There are several specialist lottery providers to the charity sector. If your charity already operates a lottery (or is yet to do so) we can work with the lottery provider to develop a link between our and their systems. Well known providers include:tickets. And as the data is collected fundraising can target the new lottery players to see if they want to sign up to play via direct debit.
It is important to note that Cybertill allows charities to print and sell lottery tickets at the till point. We are not a lottery provider, as the numbers our system prints at point of sale come from the lottery providers' database.


Responsible gambling
Cybertill and all charities recognise the potential risk that gambling can present. Therefore they actively promote responsible gambling and work with and follow guidelines from organisations such as: